Overview of AACS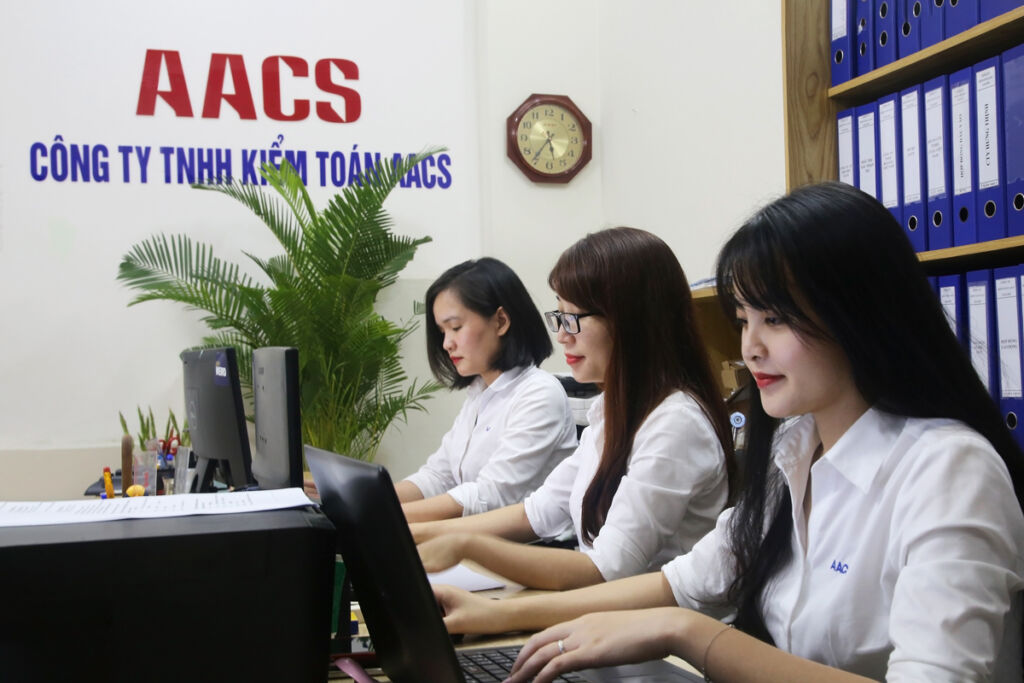 AACS is a company specializing in providing auditing, accounting, financial consulting and tax consulting services, established in August 2017 by a board of directors with more than 10 years of experience working in the field of accounting. The auditor has directly participated in auditing many large enterprises in many fields of industry in Vietnam, especially foreign-invested corporations, state-owned corporations, joint stock companies, and public companies. listed on the stock market.
AACS is one of nearly 200 Auditing Companies licensed by the Ministry of Finance to be eligible to operate in the field of Auditing in Vietnam.
Core values
With the core orientation of becoming the optimal choice of growing businesses for high quality and specialized services, AACS aims to help customers achieve their goals through support services. Audit support, tax, related party transaction reporting services and other services.
AACS has nearly 100 officers and employees working regularly to serve companies, multinational corporations and private businesses in many different fields of activity.

With main office in City. HCM and branches in major economic centers throughout the country such as Hanoi, Nha Trang and Can Tho, Dong Nai, Binh Duong, Thua Thien Hue, Nghe An, Bac Ninh... have been and will continue to be suppliers Providing reputable audit and consulting services to businesses across the country.
Currently, with a team of experienced auditors, financial experts and consultants who have been operating in the industry since the early days when these services were first formed in Vietnam, AACS is proud to bring Providing domestic and foreign customers with the most professional and quality services.
AACS has been serving more than 1,000 customers operates in many different industries and fields.
With a deep understanding of the business environment, investment policies and procedures, taxes, laws, accounting and consulting in Vietnam, along with in-depth knowledge of industry fields and models. Doing business in the world, we firmly believe that we can fully meet and be ready to accompany the development of our customers.
Operating principles and commitment to customers
AACS operates according to the principles of independence, objectivity, integrity, protecting the rights and business secrets of customers as its own rights on the basis of compliance with the law.
In a business environment with a constant and rapid pace of change, customers need a consultant with foresight and quick response to the innovation requirements of the organization as well as the market. At AACS, we build strong relationships based on a deep understanding of our clients' most important issues.
Our collaborative and robust approach sets us apart. We always try to understand our customers, understand their strategies and aspirations, and strive to become a consultant that customers trust and choose.
By sharing ideas and experiences from the most senior experts, we bring to our customers' businesses the knowledge and resources from local and international experts so that customers feel understood. Understand and be supported with confidence in the business development process.
Brand reputation and social responsibility
AACS built on professionalism, dedication, quality of services: auditing, accounting, tax consulting, management... and our contribution to the business community and always accompanying businesses with top quality and professional criteria to build a reputable brand and a trustworthy address throughout the business's operations.
AACS believes that responsible business behavior can bring positive changes to society. We look forward to contributing to the surrounding community in the most meaningful and positive form. Therefore, our vision is to implement a social responsibility program, a sustainable program of Social Activities and Education in the coming time that will bring positive impacts to our company as well as like community.