June 25, 2020
Posted by:

Nguyen Manh

Category:

Accounting
Procedure Inventory inventory
Inventory includes stored products waiting to be sold, business stocks, defective products waiting to be repaired, unfinished components, or raw materials, tools and tools serving the process. manufacturing business,…
For most businesses, inventory accounts for a very large proportion of business assets, so it is of special concern.
But with a huge quantity of goods up to hundreds of thousands of product codes, businesses are required to develop a logical inventory method, to save time and effort, while still ensuring accuracy. body
1. The importance of inventory counting
Helps release inventory at the right time, contributing to limiting unnecessary waste (expired, damaged goods), reducing warehouse rental costs (hiring workers, using storage services,...), thereby Saves businesses a small amount of money.
By checking inventory, businesses will promptly detect expired or nearly expired goods, problematic goods, goods with excess inventory... to have appropriate ways to handle and discharge goods.
If there is a discrepancy between the actual inventory count and the inventory report, it will indicate many problems: weakness in warehouse management capacity or fraud in stealing or smuggling goods out, etc. Business owners will have grounds to investigate and prevent damage promptly.
Working capital flow is used more effectively for other business activities instead of putting too much into stagnant inventory.
2. Two methods of inventory counting
2.1 Periodically check inventory
The time to check inventory is specifically planned, for example monthly, quarterly, semi-annually or according to the end of the business's conventional period.
This form is applied by many businesses today to business types of large quantities, low or medium value, products with diverse designs, e-commerce goods regularly exported at retail,...
The advantage is that the work is focused at one time, does not take as much time as regular inventory. There may be pressure for a few days, but in the long term, the accountant will "breathe easier".
The disadvantage is that the time interval between inventory counts is quite long, so it is difficult for business owners to accurately grasp the situation. If there are errors, it will be more difficult to investigate and detect.
Thus, depending on the needs of the business as well as warehouse size, type of goods, human resources and warehouse policy, choose the appropriate inventory method. Then, apply the inventory counting process as below to control the warehouse situation most effectively.
2.2 Check inventory regularly
The frequency of inventory checking can be daily, several days, weekly or after each import and export of goods. Applicable to businesses storing high-value equipment, machinery, typical goods, construction and installation units, etc.
The advantage is that it is possible to accurately and continuously determine the amount of inventory at any time, minimizing problems of loss and deviation. Business owners will grasp the goods situation early to have a business plan and discharge goods. However, regularly checking inventory will be quite costly in terms of personnel and time, and the accountant's workload will also be greater.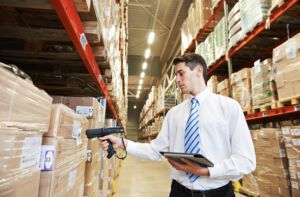 3. Process of warehouse inventory, inventory count, and goods inventory.
3.1 Before conducting inventory count
For periodic and irregular inventory, there are things you need to do as follows:
– Notify relevant departments for better preparation. During the days of conducting inventory, if necessary, you can notify suppliers, partners, customers (if any) to avoid inconvenience, or limit the frequency of import and export of goods.
– Assign a person responsible for participating in warehouse inventory (usually a warehouse keeper combined with an accountant, or a manager, business owner, etc.)
– Make a specific inventory plan: which area to check goods first, which area to check goods later, from which day to which day,...
Before the inventory count date, it is necessary to review the most recent inventory list report to liquidate, release goods or handle out-of-date goods, damaged goods, etc. This is to reduce the workload in the warehouse. inventory stage.
3.2 Steps for inventorying goods
Step 1: Based on management software, inventory reports or warehouse cards, make an inventory list according to the most complete list (Note to arrange in order by each area as planned). In the inventory sample, there are detailed columns such as Product name; PLU; Number of rows in the report; Actual inventory quantity; Notes,...You can refer to the sample warehouse inventory record below.
Step 2: Conduct a review of the actual quantity of goods at the warehouse, making notes on the available warehouse inventory form. In principle, there should be two people working in parallel, recording data independently in two different records to increase accuracy.
Step 3: Compare the 2 inventory records (actual quantity column) to see if there is a difference. If so, it is necessary to count again to get the most accurate actual inventory data.
Step 4: After finalizing the final actual inventory, compare this number with the quantity in the report. In case there is a difference, the person directly responsible (such as the warehouse keeper, regional warehouse staff, etc.) must give a specific explanation.
Step 5: If there is a difference, adjust the inventory data according to reality
Step 6: Prepare an inventory inventory record after completion, and all relevant parties sign for full confirmation.
Step 7: In cases of deviation, the management board or business owner needs to find out to clarify the cause. There are the following cases:
Excess difference (actual quantity is more than in the report) can be due to mistakes in recording reporting data, making incorrect reports, forgetting to enter data into the system when importing goods, etc.
Short variances (fewer rows in the report) are a matter of special concern. It could be due to the employee forgetting to scan the barcode or record the goods when releasing goods, loss due to relocation, the possibility of loss of goods due to loss of grade, fraud, etc. cannot be ruled out.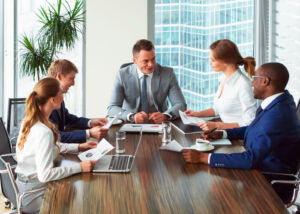 Data processing meeting after the end of the Inventory
4. How to easily and accurately inventory inventory
Conduct inventory checks regularly, do not leave them for too long as it will be easy to make mistakes or difficult to review when there are errors.
The warehouse keeper and warehouse staff themselves must work scientifically according to the pre-planned warehouse management process
Scientific warehouse arrangement plays a very important role in helping the asset inventory process to be more convenient, faster and more accurate.
To avoid wasting time and effort on self-inventory and warehouse management reports, your business can hire a third-party service that specializes in providing inventory counting services.
This is a solution applied by many businesses today to save budget and personnel but still bring high efficiency.
You can refer to this for more information Price list for inventory counting services AACS merchandise and inventory report form.